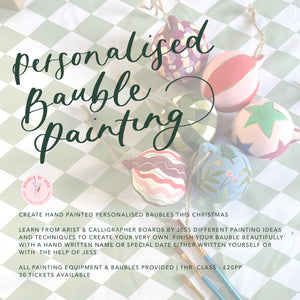 This event is part of the Christmas Day for TFL employees. Create your own hand painted bauble to give as a special gift this Christmas. Hosted by Boards By Jess
Bauble Painting Workshop 
Begin this festive season and paint your own round ceramic bauble with the opportunity to personalise it with a special name or date. Painting ideas and guidance provided or get creative with your own designs. 
Where and When? 
Friday 15th December 1-2PM
In person class / max group of 30 people / 1 hour
What's Included?

1 x Round Ceramic Baubles with jute provided for each person
Painting examples, ideas and guidance throughout the class
Opportunity to personalise with names at the end (with my help if needed!)
Various Paints, Brushes and equipment provided to use
Opportunity to bring your own ideas to life
More information on the Workshop
If you're creative and take pride in your Christmas Tree - this one is for you! No need to be a painting professional - this class is suitable to all abilities and I will provide painting ideas for different levels. The class is 1 hour long and will include an introduction from me including some tips and techniques to make your baubles as neat as possible. The paint used is quick drying and so there is opportunity to personalise your baubles at the end. I am there to help with this if you'd like some pretty calligraphy! 
About Jess
Based in Deal, Kent - 'Boards By Jess' is a creative studio specialising in Calligraphy, hand-painted Signs and Illustration. An experienced teacher, Jess has taught of 250 people Calligraphy since last year. Since 2018 I've been practising calligraphy and lettering, working with local businesses and couples to elevate events and spaces with my hand-painted/hand-written artwork. I'm proud to say I've created pieces for over 250 weddings and more than 100 businesses in and around the South East. 
Things to note
*Workshop maximum - 30 people 
*Please wear comfortable clothing that you don't mind getting paint on (incase of any accidents!)
*All resources will be provided, please just bring your friendly selves. 
*This class is suitable for those 16 or over.
*Tickets are non-refundable and non-transferable. 
Please get in touch at enquires@boardsbyjess.com if you have any concerns or questions.